About Us
Dr.PREMKUMAR.SMP,YOGA&PanchaKarma Practitioner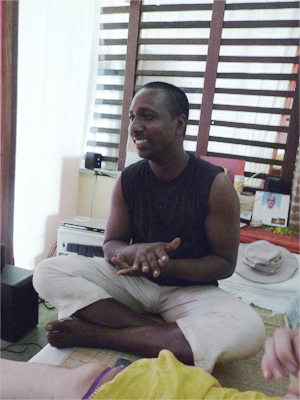 Dr.Premkumar SMP, the Chief and Head of Ayuroushadham project, hails from a traditional family of Ayurveda & Siddha practitioners of Kanyakumari near Kerala. The family comprises of great warriors in Kalari Payattu, an old martial art form indigenous to Kerala dating back to more than 2000 years.

The emphasis of this art form is primarily on Varma or Marma, vital points of a human body and based on foot works, movement and then ability to strike at vital points which are considered lethally vulnerable.
Dr.Premkumar, who started his career at the age of 16, learnt directly from his ancestors, is now a renowned practitioner in the field. His way of diagnosis is unique, as he is known as an expert in Pulse rate Reading, and Feet Reading which he himself obtained through long time experiments and comprehensive knowledge got from practical experience that helps in arriving at the right healing process, naturally leading the patients in restoring and to keep up a comfortable, rejuvenated life style.

Dr. Preseela Markose B.N.Y.S. (bachelor of naturopathy and yogic sciences) from MGR Medical University Chennai. She is a chief medical officer in Ayuroushadham. She is the wife of Dr. C.Y. Premakumar. Her grandfather N. Lazar., was a great warrior in martial art of the can Kalari payattu in kanyakumari district (old Travancore kingdom).
Testimonial